The Financial Dialogue Report is one of our most valuable reports. It gives you access to the detailed talking points that we've highlighted for our customer. These are the points most likely to be raised in a financial review meeting.
The Financial Dialogue identifies and prioritizes the most relevant financial issues facing a supplier. It presents them as straightforward discussion points. The Financial Dialogue helps suppliers prepare for proactive, confident discussions on their financial health.
The Financial Dialogue is a conversation guide to lead intelligent discussions on financial health.
New to finance?
We'll tell you what's important for you to know, why it's important, and which questions might be asked by your customer. Use these insights to strengthen communication and collaboration by engaging in informed conversation.
Seasoned financial analyst?
This report will save you considerable time and effort. It is a reliable checklist of conversation points you need to prepare for. We sometimes hear this referred to as a 'credit checklist'. Grab this before a meeting and get up to speed quickly and have mental clarity around the key talking points.
What's in the Financial Dialogue?
Items we look at include cash availability and working capital, profitability, leverage and debt maturity, and cash flow. Below are some of the specific aspects we cover.
Risk Highlights:

The first section starts with the FHR, Risk Level, CHS, EPD, and Quadrant.

Priority Items for Financial Review:

A concise statement of the five most important issues across the company's financial profile. The issues offer a balanced perspective, from the company's unique challenges to their notable strengths.

Deeper Dive

on each of the flagged issues. Each page presents:

Extended Discussion -

Additional questions which might be asked and supporting rationale.

Education -

Why this issue is important.

Background -

Other factors to be aware of.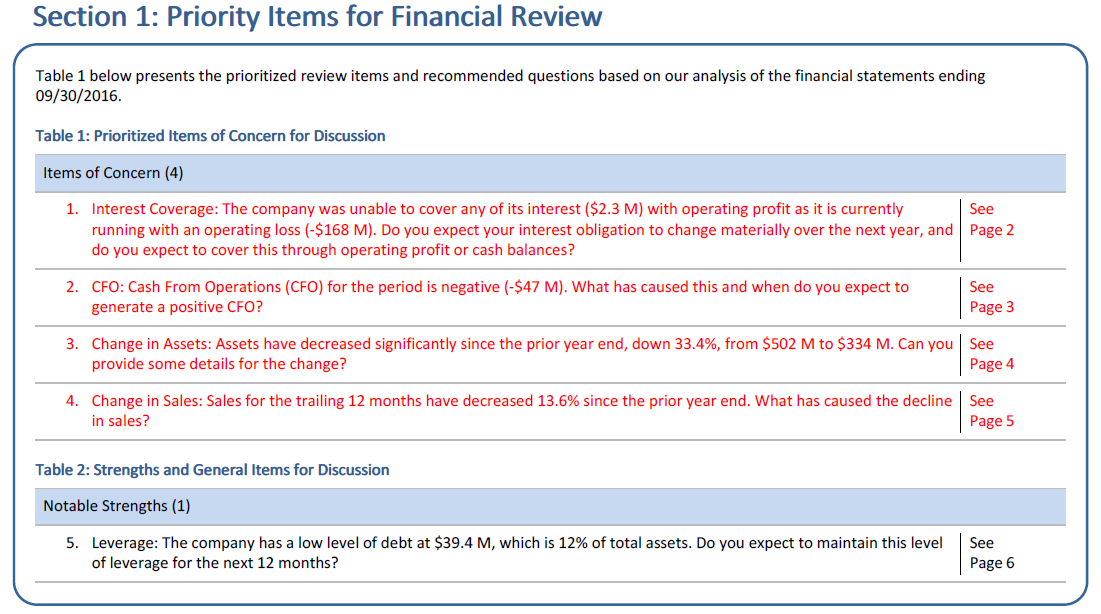 The most impressive part of the Financial Dialogue is the way it robustly canvasses the issues and uses business-friendly language to raise the topics most critical for discussion. It helps you lead a positive and confident conversation with customers around your organisations financial health.